Marvel's Ultimate Spider-Man: Web-Warriors Friends and Foes Character Guide is a digital character guide released by Marvel Entertainment on their official Marvel Kids website. The character guide is available for free download. The first version of the guide was released in 2014. In 2015, it was updated to include more characters' biographies and new concept images.
Contents
The character guide features a brief summary of each character's biography, special abilities, and power grids, and contains exclusive artworks. The 2014 version had 18 profiles, but was then upgraded to 31 profiles in the 2015 version.
2014 version
Featured Characters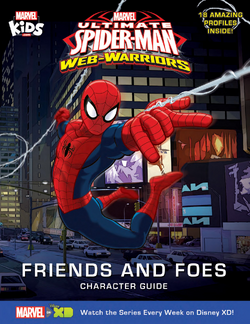 In order of listing:
2015 version
Featured Characters
In order of listing:
Ad blocker interference detected!
Wikia is a free-to-use site that makes money from advertising. We have a modified experience for viewers using ad blockers

Wikia is not accessible if you've made further modifications. Remove the custom ad blocker rule(s) and the page will load as expected.